Photo: Central Viaduct viewed from Jennings Ave (now W 14th) ca. 1890
The lands of northeast Ohio encompassing the current Tremont community were originally home to many nations of Native American indigenous peoples over thousands of years.  These included the Erie, Iroquois, Miami, Seneca, Ottawa, Potawatomi, Chippewa, Wyandot, Munsee, Delaware, and Shawnee nations.  Following the American War for Independence, the 'Western Reserve', previously restricted from colonist incursion by agreement with the British, became land targeted for appropriation and sale by the new American federal government, and a series of aggressive treaties were leveraged against the Native American inhabitants to acquire their land and to displace all indigenous peoples further and further west.  The Treaty of Greenville in 1795 pushed all Native American communities west of the Cuyahoga River, and later in 1805, the Treaty of Fort Industry displaced all Native Americans to beyond the western border of the Firelands.
The expedition of Moses Cleaveland in 1795 and the formation of the Connecticut Land Company in 1796 intended to survey and sell land of the Western Reserve to New England investors and prospectors seeking to inhabit and colonize this newly assumed territory.  The Lord & Barber Realty Company acquired land west of the Cuyahoga River in 1809, which became incorporated as Brooklyn Township in 1818.  The first New Englanders to permanently relocate to the Tremont area were the family of James Fish in 1814 from Connecticut, soon followed by members of the Brainard, Clark, Branch, Aikens, Barber, Lord, Kellogg and Scranton families, among others.   Descriptions reference both wooded terrain and rolling meadowlands highly suitable for farming, as families continued to migrate into the area.  By the 1840s, northern Brooklyn Township became known as "The Heights"—a place of tranquility perched on the bluff overlooking the Cuyahoga River and removed from the bustle of the urbanizing village of Cleveland across the valley.
In 1850 Mrs. Thyrza Pelton purchased a large tract of land with the goal of establishing a university comparable to the Ivy League schools of New England. Mrs. Pelton envisioned a sprawling campus and academic community between what are now West 7th and West 14th Streets. With names such as Professor, Literary, University, Jefferson and College, area streets would channel the spirit of academia and intellectual progress. Led by the former president of Oberlin College, Cleveland University opened its doors in what soon became commonly known as "University Heights" in 1851 at University (West 7th) and Jefferson Streets, where Tremont Lofts currently stands. Unfortunately, Mrs. Pelton died within two years and financial support waned. Despite its ambitious aspirations and formative impact on local development, the university closed in 1853, having graduated less than a dozen students. From 1859 to 1868 the building functioned as a college-preparatory academy, then serving briefly as a medical college.  The site ultimately became the longtime home of the Gospel Worker Society's missionary and religious printing organization, the Union Gospel Press,
The Cleveland area's largest Civil War training camp, Camp Cleveland, was established in Tremont in 1862 in the area spanning from Herschel (now West 5th) St. to University (now West 7th) St. and from Marquardt Ave. on the south to Railway Ave. (now University Rd.) on the north. The camp hosted more than 15,000 soldiers during the war, including 3,020 cared for at the adjacent military hospital. The Civil War brought industrialization and urbanization to the area, attracting many immigrant laborers, expanding the network of railroads, and aiding Cleveland's emergence as a manufacturing powerhouse. The area began to see a demand for dense housing to accommodate the growing workforce.
In 1869, the large, wealthy families of Thomas and Isaac Lamson and Samuel Sessions arrived from Connecticut. They established the Lamson & Sessions Bolt & Nut Works Co. and built numerous fine homes along Jennings Avenue (now West 14th), joining the Peltons, Jennings and other affluent families. Elegant homes also lined Scranton Avenue at this time, including those of the Brainard, Holmden and Kellogg families.
The post-war years, which included annexation of Brooklyn Township to the City of Cleveland in 1867, were a period of rapid urbanization for the Heights area. The city's population grew exponentially and most farmland in the Heights gave way to the demand for housing. Commercial and institutional development ensued, including the construction of  a larger public school building  (replacing University Heights School house, located at the site of the current Tremont Montessori) and the local Cleveland Fire House #8 on Scranton Rd. Lincoln Park, formerly a private space owned by the Pelton family, finally opened to the public—initially as Southside Park—on July 4th, 1880. The park was renamed Lincoln Park in 1896. The high-level Central Viaduct Bridge opened in 1888 offering convenient travel to downtown, and soon featured one of the city's first electric streetcar lines. The viaduct had two spans: one connecting Jennings Avenue to downtown (the path of today's I-90) and the other following the route now taken by the Abbey Avenue Bridge. MetroHealth hospital—then known as the City Infirmary—expanded with construction of  new facilities in 1889.
In the late 19th century, several area churches took on greater community-building roles. Pilgrim Church, located on Jennings Avenue, embraced the "institutional church" movement, striving to become a center of community life by offering amenities and programs regardless of membership or denomination. Its current 1894 structure is an architectural marvel and was internationally recognized for its innovations. The current structure of Scranton Road Freewill Baptist Church (now Scranton Road Bible Church) also dates to this period and bears similar institutional features.
In 1894 Charles Olney and his wife Abigail (widow of Thomas Lamson, co-founder of Lamson & Sessions Co.) opened Cleveland's first art museum—the Olney Art Gallery—in a stunning structure connected to their home on prestigious Jennings Avenue. Housing Olney's expansive private collection and open to the public weekly, the Gallery became an important cultural site, frequently hosting Cleveland's high-society. Olney died in 1904 and the Gallery closed in 1907. Most of its pieces are now on view at the Allen Memorial Art Museum in Oberlin. A few of Olney's pieces reside at the Cleveland Museum of Art.
The 20th century saw Cleveland become one of the nation's most important industrial metropolises. Tremont's evolution mirrored these changes with increasing urbanization and cultural pluralism. The local elite moved farther from the city and many homes on Jennings were parsed into smaller lots or replaced by apartment buildings as housing density increased. Grace Hospital relocated into the area at this time and two Carnegie-funded libraries (Jefferson and South Branch) were constructed. The construction or expansion of multiple public and parochial schools followed the population growth during these years.
Waves of immigrants flocked to the neighborhood, now known as "The South Side." Following the initial 19th century influx of Irish and German families, new residents began arriving from parts of Eastern Europe, including the Polish, Slovak, Ukrainian, and Rusyn (also known as Ruthenians, Rusins, Lemkos, Carpatho-Rusyns and Carpatho-Russians), as well as Greek and Greater Syrian. Most of these groups established distinct ethnic communities with their own reception halls, funeral homes, restaurants, pubs, banks, veterans associations and newspapers. Tremont landmarks such as Lemko Hall, the Polish Library Home, Ukrainian National Home and Ukrainian Labor Temple reflect this bifurcation.
The area's distinctive immigrant enclaves also link directly to the establishment of many local churches. St. Augustine Church was founded in 1860 to meet the needs of recent Irish immigrants, later moving into its current 1870 structure in 1896. Numerous German congregations included Zion Church (1867), Immanuel Lutheran Church and St. Michael Archangel Roman Catholic Church, whose impressive 1892 gothic structure boasts the tallest steeple in Cleveland. Polish congregations included St. John Cantius Church, while the Slovak immigrant community included St. Wendelin, Our Lady of Mercy and Dr. Martin Luther Slovak Lutheran Church. Carpatho-Rusyn immigrants founded the congregations of both St. Theodosius Orthodox Cathedral and Holy Ghost Byzantine Church (originally Holy Ghost Greek Catholic Church). St. Theodosius erected its magnificent, current cathedral with its iconic domes in 1911. The Ukrainian community attended both St. Peter & Paul Ukrainian Catholic Church and St. Vladimir Ukrainian Orthodox Church. St. George Antiochian Orthodox Church, originally the site of a Methodist Episcopal Church, became a Lebanese Christian congregation (from Greater Syria) in 1933. Annunciation Church—built on the site of the former Lamson & Sessions estates on West 14th St. north of Fairfield—become the first Greek Orthodox church in Cleveland in 1919.
Cleveland's industrial development proliferated during the early 20th century. Complementing the giant manufacturing companies, somewhat smaller industrial works also sprang up, often within or near The South Side neighborhood. These include Fairmount Creamery, Wagner Awning Co., the Distribution Terminal Cold Storage Building and the Union Gospel Press complex (which is actually more than a dozen adjoined structures).
By the 1920s and 1930s The South Side hosted mostly working-class residents and gained increasing notoriety for its concentrated poverty and social challenges. Merrick House, founded as a settlement house in 1919, offered programs for children and families, including literacy classes and food assistance. The Lincoln Park Baths met sanitation needs of residents who did not yet have indoor plumbing. It later became Lincoln Park Recreation Center, which remained open until 1984. Valley View Homes Estates, overlooking the steel yards and Cuyahoga River valley, opened in 1940 to provide modern and affordable working-class housing just steps from many industrial employment sites. Social service agencies established local offices in the neighborhood, and volunteer committees such as the Tremont Area Civic Association emerged to partner with Merrick House, local churches, and government agencies.
The South Side had become a rich tapestry of cultural pluralism. World War II and the post-war years brought another wave of urban migration to the area, including African American families who, during the 'Great Migration,' were fleeing the profound racism of the 'Jim Crow South' and were drawn to Cleveland for its affordable housing and abundant industrial employment opportunities. Appalachian families would arrive to the area as well during this period.  Later, the arrival of Hispanic families from Puerto Rico, Dominican Republic and Mexico, would enrich this multicultural fabric as well, establishing new churches, businesses and community venues.
The area was greatly affected by suburban sprawl and the development of the interstate highway system. In the early 1960s the epic Interstate 71 project routed the Medina Freeway directly through our neighborhood, effectively splitting it in two. Hundreds of homes were destroyed and myriad residents displaced. The 1960s also brought severe manufacturing declines for U.S. cities of the northeast and Midwest, and when these industries began to diminish, employment opportunities for local residents depleted as well, leading to outmigration, unemployment and deepening poverty. Many residents fled to the suburbs, resulting in housing degradation and vacancies, disinvestment, crime and arson. The South Side lost 14,000 residents by 1970 and would continue to lose thousands more in the following decades.
During these years of adversity, The South Side produced many stories of resilience, led by churches, grass-roots neighborhood groups and non-profits such as the Tremont Neighborhood Opportunity Center, the Tremont Improvement Coalition, and the organizations that would merge to form Tremont West Development Corporation (TWDC). Block clubs and community organizers collaborated to forge creative partnerships to meet the complex needs of the neighborhood, which by the end of the 1970s was increasingly referred to as Tremont.
Beginning in the 1980s, young artists and entrepreneurs saw in this challenging landscape a canvas with unlimited potential. Properties were affordably purchased for use as galleries and studios, forming a community of art and creativity. This bohemian village spawned arts events such as the Studio Gallery's annual Auction for the Artists (later hosted by Eikona Studio and Asterisk Gallery) and the famed monthly Tremont ArtWalk founded in 1993 by Jean Brandt. Galleries and venues such as Wildflower and the Brandt Gallery hosted progressive art and music events, and the Literary Café became a hub of creative expression, hosting a monthly open-mic poetry event, an eclectic cable TV variety show, and the Pretentious Tremont Artists. Pilgrim Church launched Arts Renaissance Tremont in 1991 to "enhance the diversity and quality of life in Tremont with an annual schedule of free, world-class classical music." Improving economic conditions allowed restaurateurs to open innovative dining establishments such as Bohemia, Miracles, the Hi and Dry, and Edison's, followed later by Lola Bistro (Michael Symon's first restaurant), Kosta's, the Treehouse and Cravings/Civilization coffee house. Tremont's architecture gained more attention, with numerous sites designated historic district and landmark status. Like our neighbor Ohio City, we were becoming a hotbed of historic restoration, adaptive reuse, and progressive new construction. Cosmopolitan "new-urbanists" began migrating to Tremont to join this vibrant, mixed-income community and live close to downtown workplaces and amongst the trend-setting arts and restaurant scene.
The new millennium has seen Tremont become an ever-more-livable community, with cleaner, greener, safer streets, lower crime and extraordinary civic engagement. Tremont West Development Corporation stewards much of this progress—organizing residents, accessing resources, facilitating community-based involvement, and actively seeking to balance the forces of gentrification and protection of lower-income residents.
Diligent block clubs, volunteer committees, and creative fundraising initiatives, such as the Tremont Trek Home Tour, have been instrumental for critical  projects and quality of life improvements. Community group efforts and annual collaborative events, such as Walkabout Tremont (the former Tremont ArtWalk), public art projects, the Tremont Farmers' Market, Near West Recreation, Arts in August, Taste of Tremont, Arts Renaissance Tremont, and the Tremont Arts & Cultural Festival all attract visitors while enhancing residents' quality of life. While some of area's historic churches have closed or relocated, many new congregations have been established which add to the diversity of cultural and religious groups represented throughout Tremont's  neighborhoods. And through it all comes the Ohio & Erie Canalway Towpath Trail project: 101 miles of pedestrian and bike paths, with Tremont one of the only communities where the path cuts through a residential neighborhood. Tremont's resilience, civic-mindedness, and celebration of its cultural and economic diversity continue to sustain the community as the vibrant and enriching place we enjoy today.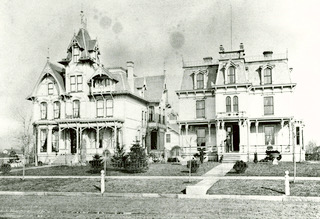 THE HOMES OF BROTHERS THOMAS AND ISAAC LAMSON (LEFT) AND SAMUEL SESSIONS (RIGHT) – FOUNDERS OF INDUSTRIAL PRODUCTS MANUFACTURER LAMSON & SESSIONS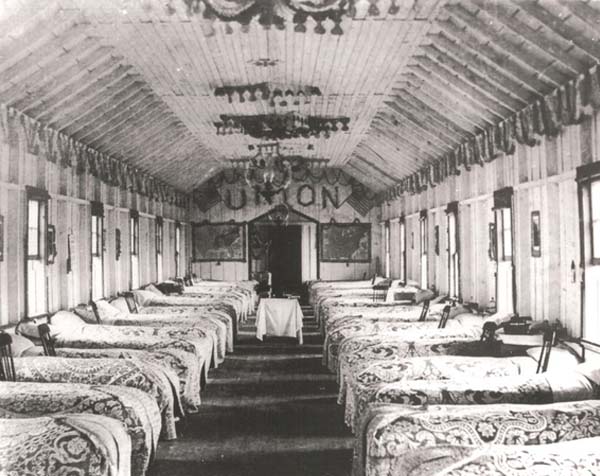 CAMP CLEVELAND HOSPITAL TREMONT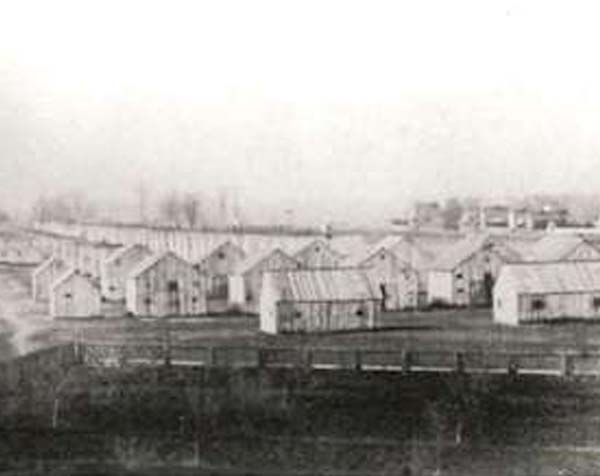 CAMP CLEVELAND GROUNDS TREMONT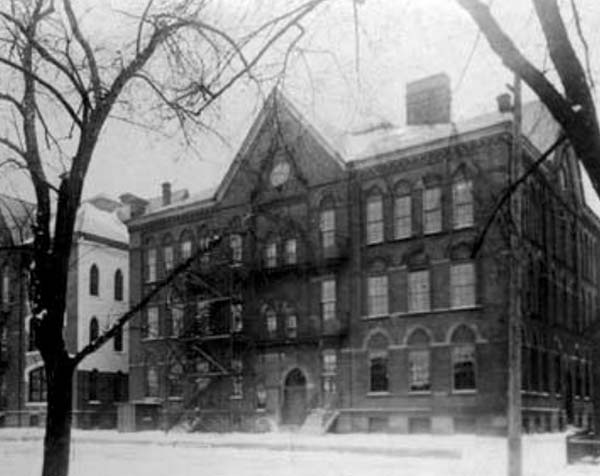 TREMONT SCHOOL (CA. 1911)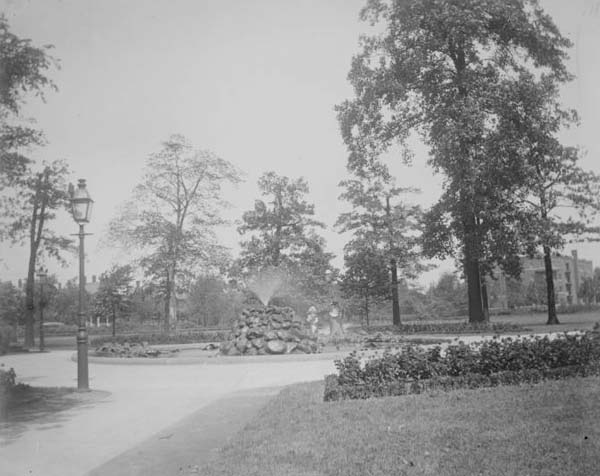 PELTON PARK (1901)–NOW LINCOLN PARK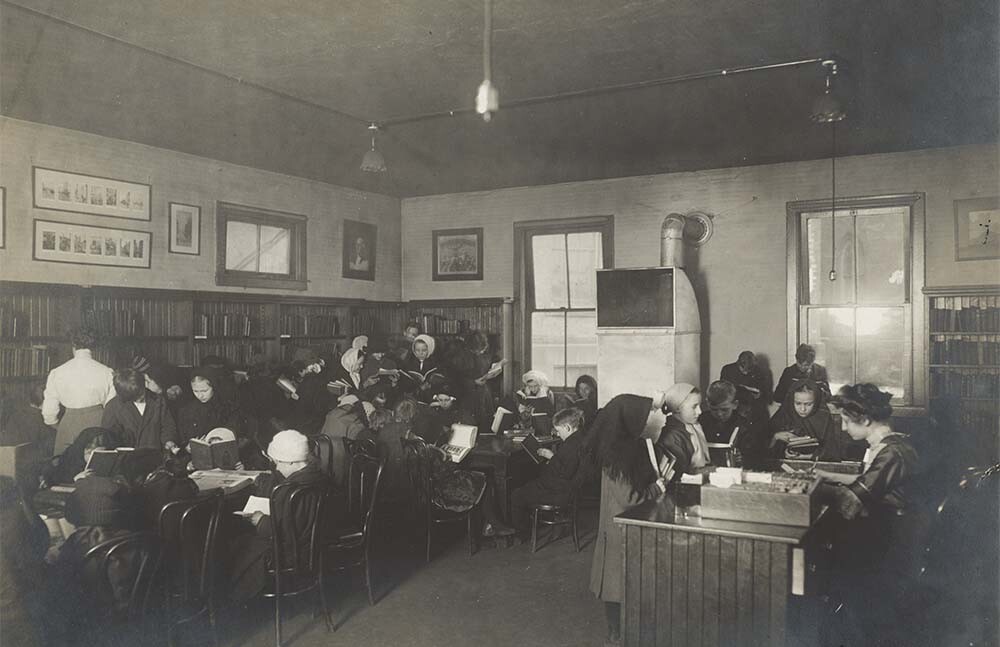 TREMONT SCHOOL LIBRARY C 1916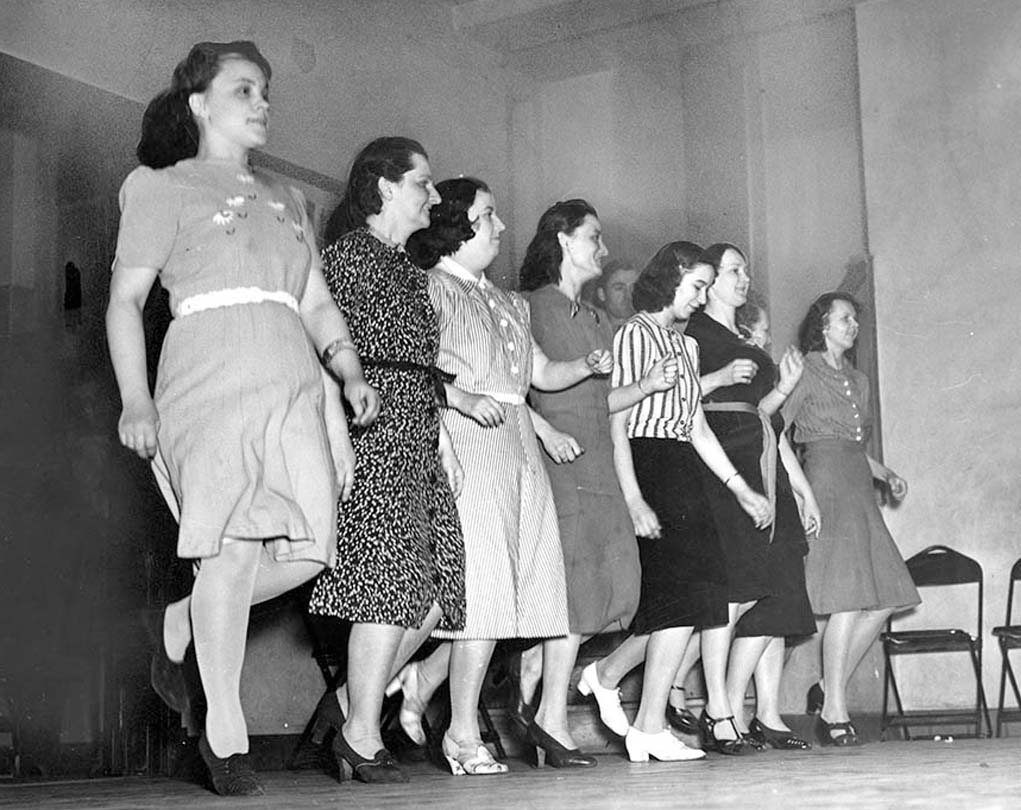 LINCOLN PARK RECREATION CENTER (1940)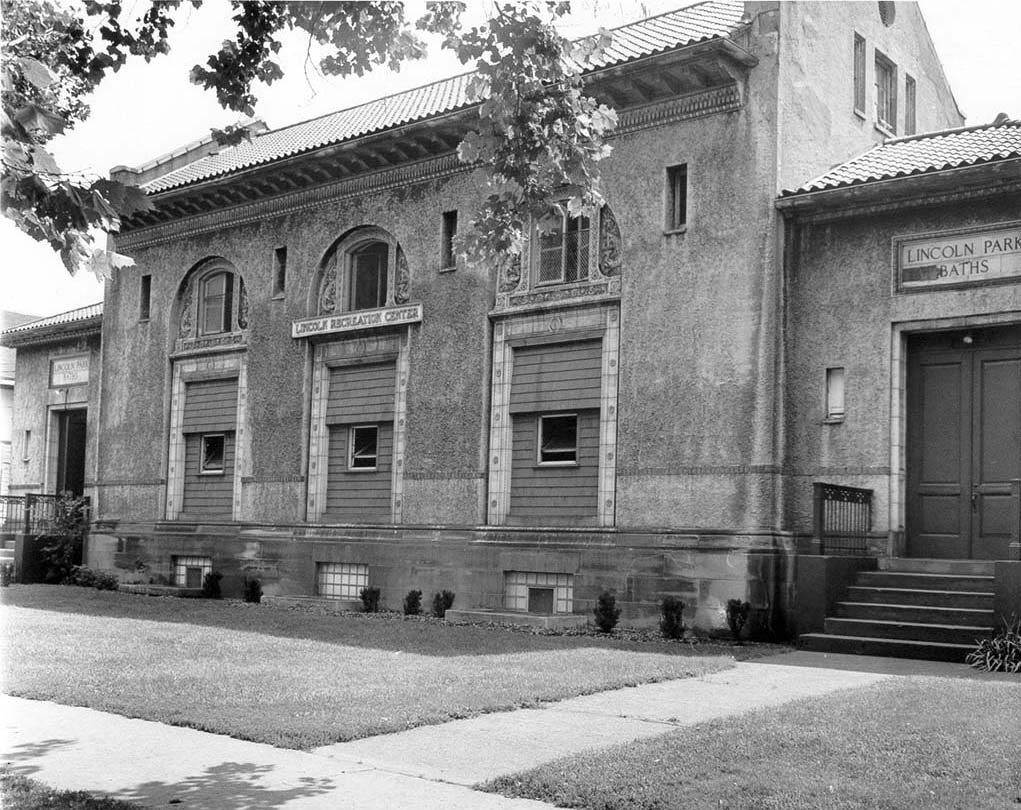 LINCOLN PARK BATH HOUSE (1979)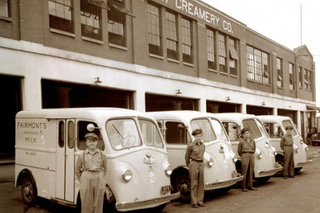 FAIRMONT CREAMERY DELIVERY DRIVERS, 1941. PHOTO COURTESY OF SUSTAINABLE COMMUNITY ARCHITECTS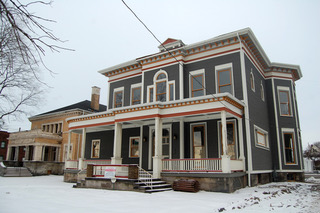 THE FORMER HOME OF CHARLES OLNEY HAS BEEN FULLY RESTORED BY CURRENT OWNER GRACE HOSPITAL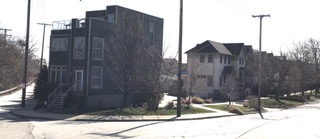 HOMES BUILT IN THE LATE 1990S AND EARLY 2000S DOT WEST 7TH STREET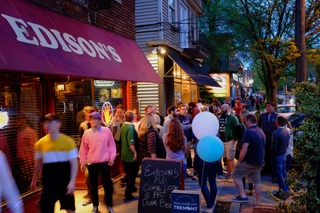 WALKABOUT TREMONT DRAWS HUNDREDS OF VISITORS TO THE NEIGHBORHOOD ON THE SECOND FRIDAY OF EVERY MONTH